BlackFlash Editions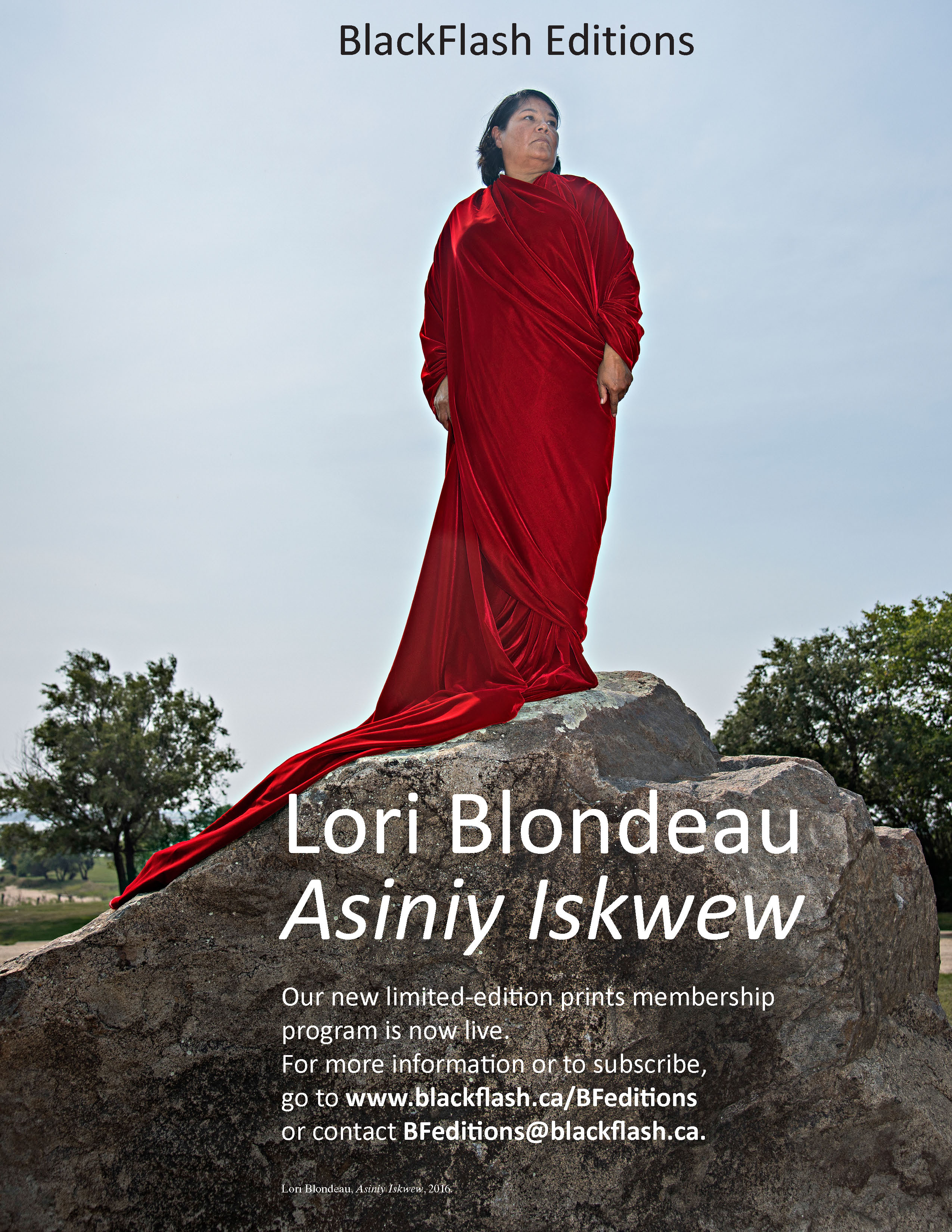 Introducing BlackFlash Editions, our new premium membership program.
As a BlackFlash Editions member, you'll receive an archival-quality limited-edition print with each issue of BlackFlash you receive from us as part of a special one-year subscription to BlackFlash Magazine.
Already a BlackFlash Magazine subscriber? If you join the BlackFlash Editions program, you are eligible to receive a pro-rated credit or rebate on your remaining basic subscription.*
Program details:
A new artist and limited-edition print is released with each issue.
Print size varies with membership level** (Supporter or Sustainer Levels).
Members can purchase additional limited edition prints and other exclusive content at our online store.
Members are eligible for exclusive offers from partnering organizations.
Issue 35.1 (January 2018): BlackFlash has produced a limited edition of 100 prints for each of the four images in Lori Blondeau's Asiniy Iskwew series. BF Editions members will receive a single print from the series, and will be eligible to purchase other prints from the series from our online store, according to availability.***
Issue 35.2: Artist and edition details yet to be announced.
Issue 35.3: Artist and edition details yet to be announced.
There are a limited number of spaces available in the BlackFlash Editions program! Join now to ensure you don't lose your place.
*Existing BlackFlash Magazine subscribers can contact us to receive a pro-rated discount or credit based on their remaining basic subscription (contact us at BFeditions@blackflash.ca for details).
**Supporter level: small-format (approx. 5″ x 7″), Sustainer level: large-format (approx. 8″ x 10″). Actual print size will vary.
*** Our online store will open as part of the Issue 35.1 launch activities in January 2018.
To join the BlackFlash Editions program, select a membership level below, and complete secure registration and payment through Shopify.
Supporter-level membership:
Sustainer-level membership