SINGING LANDS: Nicole Kelly Westman and Ryan Mathieson
by Peta Rake
Singing Lands is the culmination of several years of collaboration between two artists, Nicole Kelly Westman (Calgary) and Ryan Mathieson (Vancouver). Separated by the vast interior, they decided to meet in the "Centre of the Universe" to realize a project. The Centre of the Universe, according to some, is located at Vidette Lake in Deadman Valley, 70kms Northeast of Kamloops, British Columbia. This site has seen many variations; it is the sacred site of the Skeetchestn First Nations, later co-opted as a gold mine, a trading post, and now a spiritual retreat.
Tibetan monks believe there are several terrestrial locations of The Centre of the Universe, and apprentice monks are sent to perform ritualistic tests on land sites to corroborate a locations' authenticity. The tests on the Vidette Lake region began in 1980 when a white-robed man turned up unannounced, soon followed by a full entourage of monks. By 1984 the site was verified as The Centre of the Universe by a Master Monk, who used the embers of an aromatic fire high on a grassy vista overlooking Deadman Valley.
Westman and Mathieson's residual effort and time spent at this site coalesced into a one-night performance at this year's Sled Island Music & Arts Festival. The performance focused on experiments in land-based documents, image projection, performative actions, audio composition, scent embodiment and digital assemblage.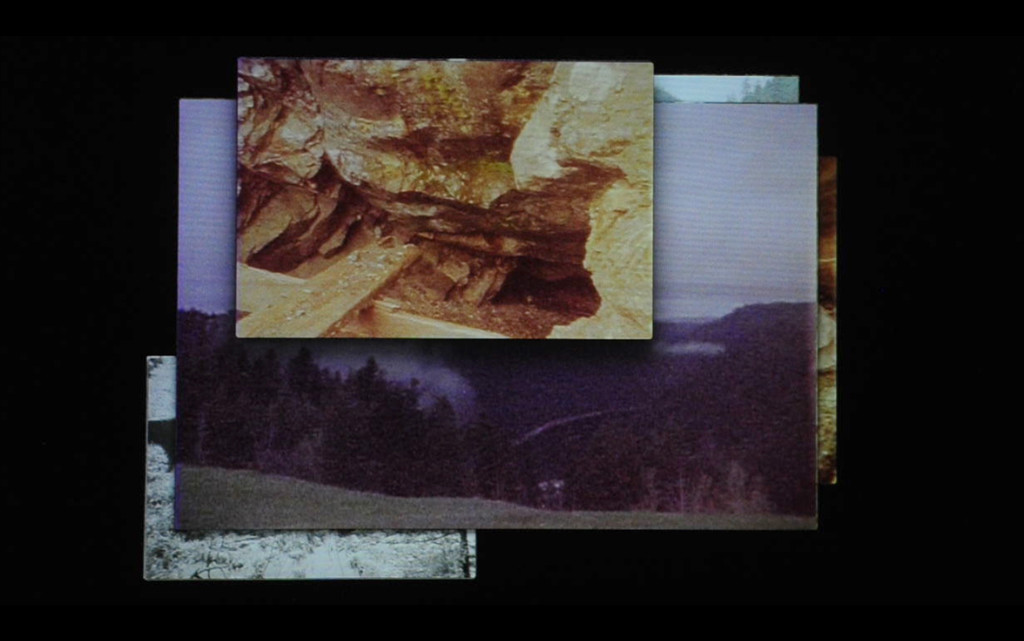 Kim Gordon's band Body/Head is in sound check on the main level of Calgary's Royal Canadian Legion #1. In the basement, a paneled ceiling reflects a brown linoleum floor. This underground room has baby blue walls and an entrance akin to a wraparound balcony, as if a house sunk neatly and slowly from above. Benevolent Societies probably held AGMs here–socks high and starched pleats in their slacks–tucked away from the street and adjourning for convivial refreshments at the yellow horseshoe bar at the back. Later, buzzed, they might play snooker at the table near the entrance.
Tonight, this multipurpose space is a sculpture garden. Matching cadmium red and asparagus-coloured lino chairs are stacked, grouped and shuffled together. The precarious chair towers are not filled; they sit empty, facing all directions. Tables are upturned and trussed, dried plants hang and sit like a sparse and forgotten Babylon. It smells like juniper in here, like an old friend. A large Da-Lite screen is stretched across the room and a slide carousel rests atop a Lazy Susan with a projector sitting alongside. A tape recorder faintly plays a cassette of a man's crackly voice, which guides you through a meditation exercise. There are two figures dressed in white that shuffle around, adjusting projectors, volume knobs and who disappear and reappear behind the screen.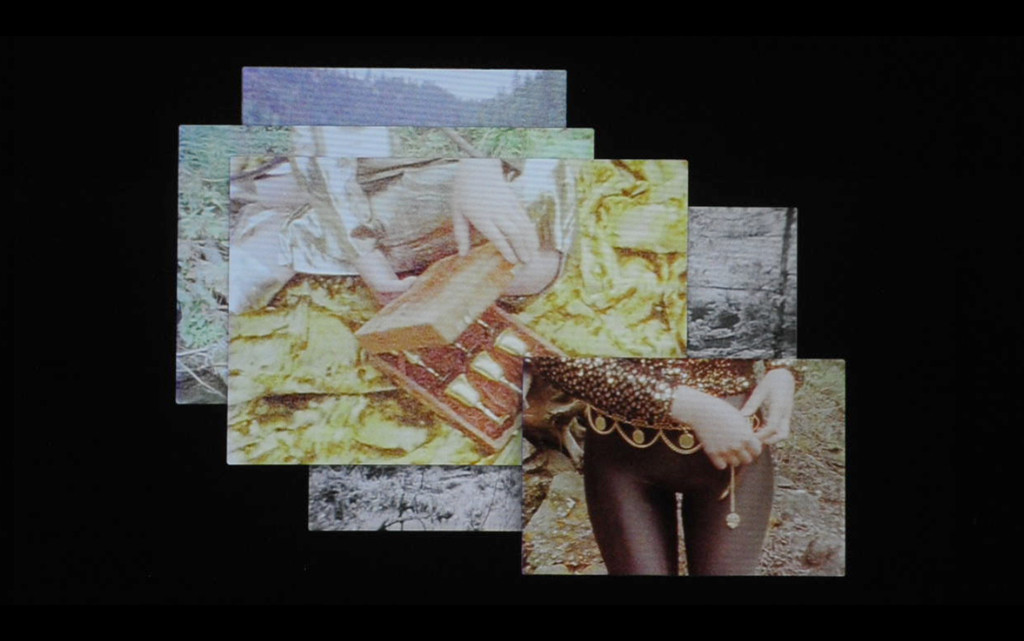 The projected image on the screen looks like an aerial view of a table scattered with photographs, or perhaps many open windows on a computer desktop. Originally shot on Super8, the film is spliced and cut into images that sometimes move and are sometimes still. The fragments of the film pop up one by one, the narrative looping onto itself, interrupting, overlapping and disturbing the next image.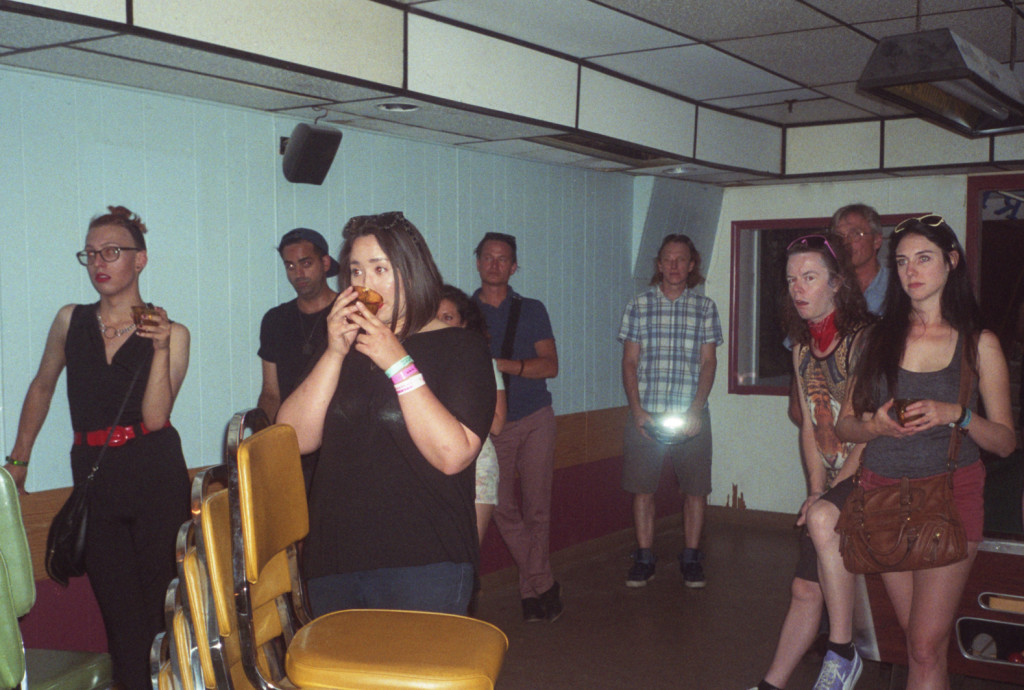 People filter in. Seemingly unaware of the audience, the white-clad projectionists continue their casual travels among the screening apparatus. The slide carousel, featuring mostly field documentation of landscapes, is swung around the space so that bodies and boundaries become planes for projection. Making a full circumference, the image stops and rests close to the invisible border between the audience and staging area. Viewers perch, lean and sit among the towers and tables, maneuvering for a view while the screening continues at the rear. From time to time, one of the robed figures turns towards the audience and snaps an image of the crowd on a film camera, momentarily blinding everyone. 'Eye floaters' hang like cobwebs until you adjust. Whiskey is served in thick glass punch cups and people are welcomed incrementally and individually by the projectionists in white.
The film features a remote landscape and a female figure that seems to have entered through an otherworldly portal. The figure is captured on film in the faint and most remote parts of the featured landscape, spectral in the distance. She is seen in and on the periphery of high foggy vistas, mining ruins, stratified and fossilized rock formations, steep ravines, glacial streams, mirrored lakes, underground tunnels, waterfalls, mossy hiding places, sub-boreal plateaus, landing sites, and impossibly tall stands of spruce. In other frames, the figure documents her findings for the unseen filmmaker: glimpses of knocked porcelain knees, inquiring hands, spindly leather legs, gold encrusted hips, nimble feet, and dexterous fingers conceal souvenirs of chained charms, gold chalices, mason jars and peculiar ottoman vessels.
Time is muggy in this basement. It moves slowly, and like the film, is interrupted. There is a lot going on and the strange arrangement of the space has many focal points. Half way through a sip of a drink, we are invited to leave one by one, spilling out on the street, away from that universe. Singing Lands is about boundaries: boundaries between forms of image-making, performance and truth. Through the layering of various elements and mediums, the artists invoke something spectral of history, narrative, and a future past. By presenting this film and its documentation in the context of performance, each body present in the space is an interchangeable stand-in: artist, monk, teacher, astral traveller, nymph, believer.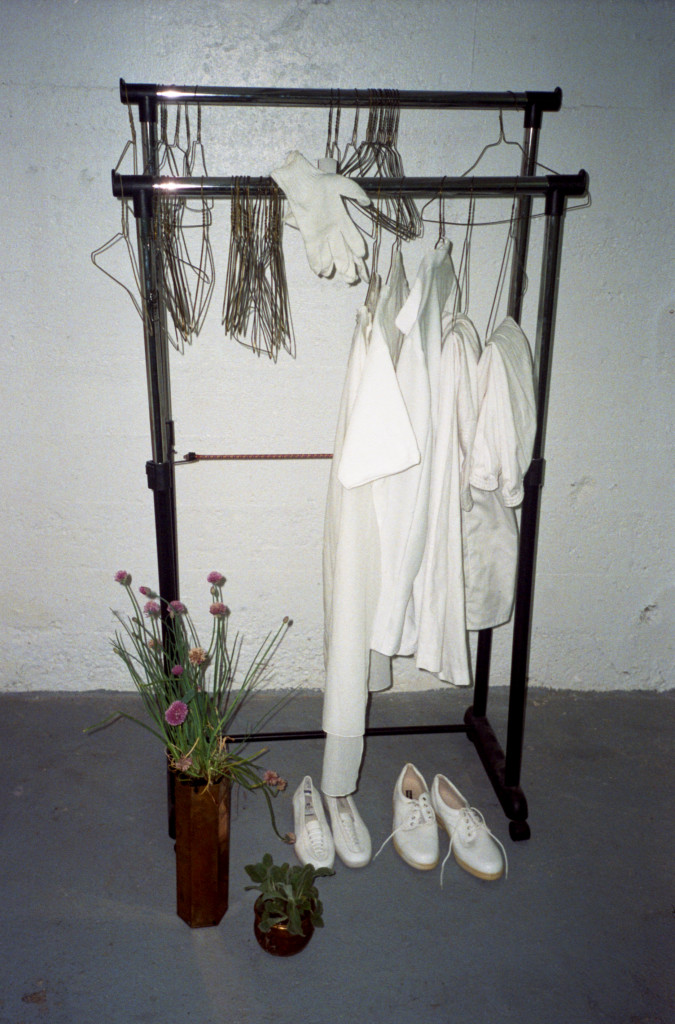 Singing Lands: Nicole Kelly Westman and Ryan Mathieson, was performed on Saturday, June 27, 2015 at the Royal Canadian Legion #1, Basement (c. 1922) during Sled Island Music & Arts Festival, June 24–28, 2015.
---
Peta Rake is the Curator of Walter Phillips Gallery at The Banff Centre and the Banff International Curatorial Institute. She writes regularly for C Magazine and her texts have appeared in Canadian Art, Fillip, San Francisco Arts Quarterly, Rearviews, Institutions by Artists and On Apology.