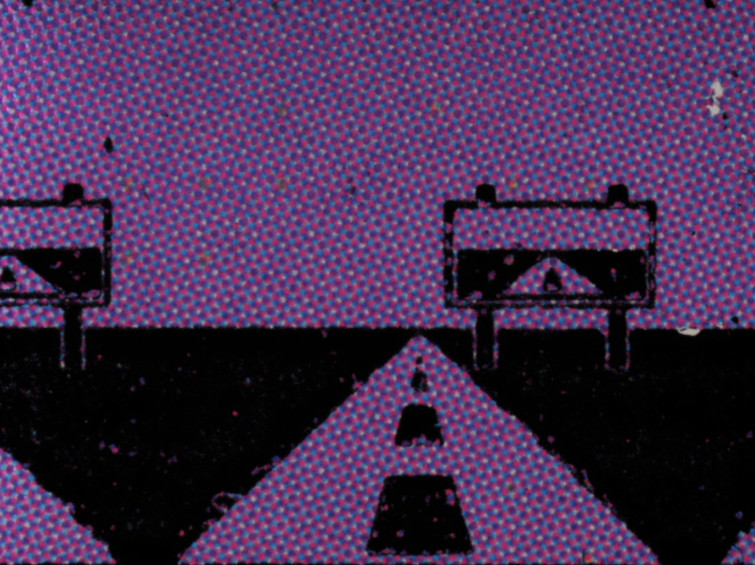 BlackFlash Magazine Issue 32.2 Launch / Expanded Cinema Performance by Scott Fitzpatrick!
Join us for the official launch of BlackFlash Issue 32.2 on Saturday, April 25, 2015 at PAVED Arts (424 20th Street West, Saskatoon, SK) at 7PM.
We are incredibly pleased to announce filmmaker Scott Fitzpatrick (featured in Issue 32.2) will be in attendance to present a selection of his expanded and single channel films LIVE!
Scott Fitzpatrick is a visual artist from Winnipeg, whose film and video work has screened at underground festivals and marginalized venues worldwide. He studied film theory and production at the University of Manitoba, and began conducting lo-fi moving image experiments in 2010. Primarily a filmmaker, he is also invested in photography, re-photography, kaleidoscope and collage.
In the program:
Wingdings Love Letter (2011/2 min/digital)
Places with Meaning (2012/3 min/digital)
BCKGRNDS, PTTRNS, TXTRS + TNTS (2013/~15 min/3 or 4x16mm)
Bruce's Borders (2013/8 min/3x16mm)
Dingbat's Revenge (2015/7 min/16mm)
+/- (2015/~10 min/3 or 4 x16mm)
After the performance please stick around to check out the newest issue, listen to the exotic sounds of DJ Mystic Java (Benjamin Hettinga) and enjoy a beer (or three) provided by Nokomis Craft Ales.
32.2 (April 2015) Features and highlights:
An article on Ethiopia-born, New York-based photographer/sculptor/video artist Awol Erizku by Matthew Ryan Smith (ON).
Heather Rigg (ON) writes on Algerian-born, Paris-based artist Mohamed Bourouissa's work, using photographs he took from a trip to Baffin Island, sculptures made from his own 3D printer and drawings inspired by the AGO's collection of Inuit Art to explore issues of copyright, cultural exchange and appropriation.
Alexandra McIntosh (NL) speaks on Richard Mosse's (IRL) visually arresting installation The Enclave prompted by the conflict in Democratic Republic of the Congo and presented at DHC/ART.
In response to Stronger Than Stone: (Re)Inventing the Indigenous Monument, Tarin Hughes (SK) contemplates the contemporary role of public art and monuments in conversation with artists and symposium participants.
Leah Taylor (SK) interviews painter Anna Plesset (NY) on her recent photo-based works.
Sheilah Wilson (US) continues her investigation into the changing face of photography in the 21st century with an interview with Raymonde April (QC).
Kyler Zeleny (ON) revisits his old prairie haunts by (re)presenting his Out West photography series in an exclusive artist project for BlackFlash.
As well, Stephen Broomer (ON) presents an In Focus column on the expanded cinema works of filmmaker Scott Fitzpatrick (MB).
Hope to see you there.